Pulse/Counter Channel Electrical Details

Outpost WASP2 is designed to connect to any meter with a voltage free or transistor output interface. Voltage free output meters include "dry contact" or "passive contact" closure devices. Transistor output meters includes standard "open collector" or "open drain outputs" and "S0" compatible or DIN 43864 output meters.
The WASP2 pulse/counter channel will power passive and open collector/drain circuits with 2.8 Volts as shown in the diagram below. It is preferable to have as short a cable run as possible. For cable runs over 10m or running near noisy electrical equipment such as VSDs or pumps it is recommended to use shielded twisted pair cable.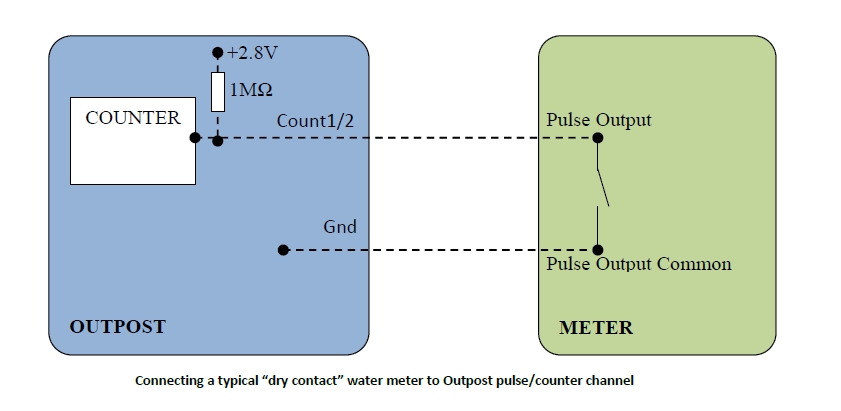 Pulse/Counter Channel Specifications

Pulse/Counter Channel Electrical Details

There are generally 2 different types of pulse output meters available both of which are supported by the Outpost WASP2 pulse/counter input channel:

Magnetic reed switch or "Dry Contact" switch
For dry/voltage free contact or reed switch type meter outputs wiring polarity is not important (i.e. Connection is not polarised)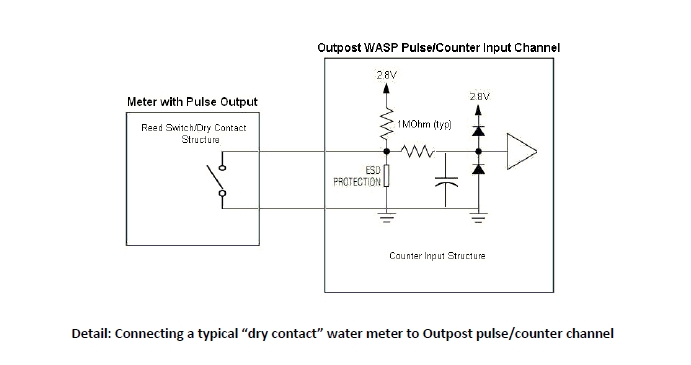 Transistor "Open Drain", "Open Collector" or S0 Compatible Output
For meters with a transistor "open drain" or "open collector" pulse output such as S0 standard the meters polarity of connection to Outpost WASP2 pulse input is critical. (I.e. Connection is polarised.) The COUNT1 terminal is +ve 2.8V, and the GND terminal is Ground. Refer to the sensor or meters documentation to ascertain polarity for wire core colour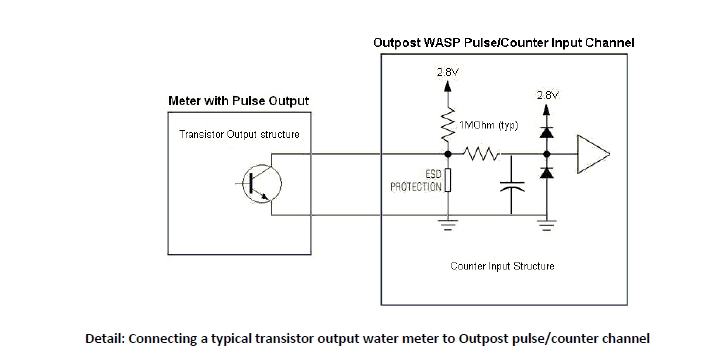 The WASP2 pulse/counter input channel has a 20ms de-bounce circuit which is intended to filter out mechanical bounce during contact closure, allowing a maximum pulse rate of 25 Hz

The diagram above shows the counter input debounce timing characteristics. The input pulse must transition and stay in the new state for at least Tdp milliseconds before the transition will be registered by the Outpost

Tdp Min = 10ms, Typical = 15ms, Max = 20ms

20ms is therefore the minimum recommended pulse width which equates to 25Hz at 50% duty cycle

Voltage threshold for "high" and "low" signals for the pulse counter inputs are:

Pulse/Counter Channel Pulse Edge and Count Binning
WASP2 pulse/counter channel registers pulses on the negative (high-low) edge which is normally the leading edge of a dry/voltage free contact connection.

The number of pulses in each logging period is counted up continuously until the end of the logging period at which time the count is time-stamped into Outpost logger memory for later transmission to website.

Logging period is typically 15 minutes, but is set by Administrator on website.