The Outpost Central software allows you to edit, import and export Input (e.g. meter or sensor) data. This can be particularly useful for:
● Recalibrating data that has been logged with the incorrect calibration applied
● Transferring data between Outpost Central hardware
● Archiving data when a logger moves to a new meter/sensor/project/site
● Deleting redundant data
Accessing data edit/import/export/delete functions
Select Config sensors (the spanner icon) from the Sites tab of the main page of a Client login (under Tools)
Click on the Data hyperlink in the data column (furthest to the right, 0 mA and 0 kL in these examples)

Editing data
Data can be edited by clicking in and overwriting data directly in individual Datetime and/or Value cells of the data table displayed. The From: and To: fields can be used to manage the date range displayed: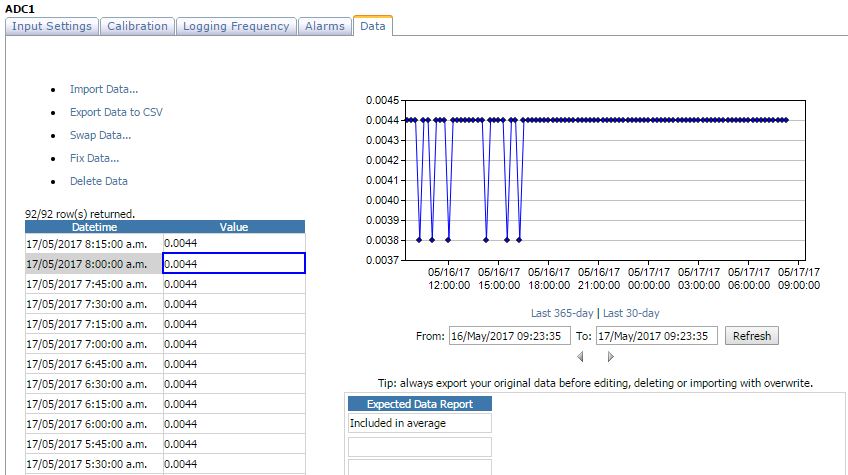 Importing, Exporting and Deleting Data
Data can be imported, exported or deleted using the hyperlinks displayed below
Import Data - allows data to be imported in Comma Separated Value (.csv) in the format dd/mm/yyyy hh:mm:ss, value. A checkbox option allows control of whether or not duplicate values from the imported file are used to overwrite existing data or not
Export Data - exports a .csv file of data for the date/time range shown (in the format dd/mm/yyyy hh:mm:ss, value)
Delete Data - allows data for a specific date/time range to be deleted. Delete Data function should be used with caution as there is no guarantee of the ability to recover deleted data.