The Decagon ES-2 is designed to measure electrical conductivity of water in a pipe or tank (see Decagon site for more details).
See below wiring on ES-2 end: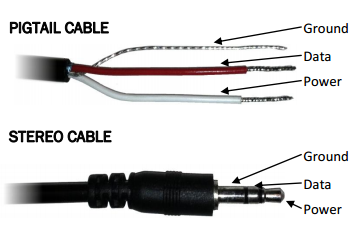 Refer to SDIM12 Connector wiring to connect the ES-2 to a Outpost logger SDI12 input.
Configuring Input
Click Config sensors () in the Tools column.
The Sensor Config window opens.
Click Add... or Add New Input
The Add Input dialog opens.
Select PIC SDI12 Ultra from the Select Input Type drop-down list. Click OK.
Select 2 from the Choose the number of child SDI12 Input drop-down list. Click Add.
On the newly created input, configure it to the following:
Click on the Child Inputs. The child inputs corresponds to the below:
Child input 0 = Electrical Conductivity µS/cm
Child input 1 = Temperature °C