The Vaisala Weather Transmitter is a solid-state, all-in-on weather instrument that measures wind speed and direction, percipitation, barometric pressure, temperature and relative humidity. It's small size makes it ideal for quick, short-term deployments. However, it is not intended for weather stations that require research-grade performance.
Refer to the Vaisala WXT520 8-pin M12 Connector wiring: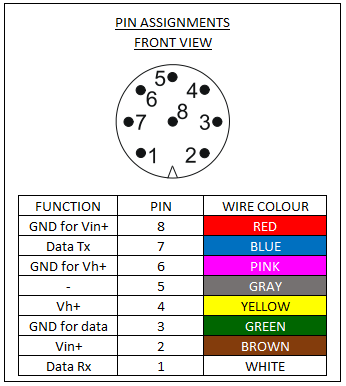 See Outpost M12 Connector for more details.
Configuring Input
Click Config sensors () in the Tools column.
The Sensor Config window opens.
Click Add... or Add New Input
The Add Input dialog opens.
Select PIC SDI12 Ultra from the Select Input Type drop-down list. Click OK.
Select 8 from the Choose the number of child SDI12 Input drop-down list. Click Add.
On the newly created input, configure it to the following: 
Click on Child Inputs of the PIC SDI12 Ultra input you have just created. The default child inputs corresponds to the below:
Child input 0 - Wind direction maximum °
Child input 1 - Wind speed maximum m/s
Child input 2 - Air temperature °C
Child input 3 - Air humidity %RH
Child input 4 - Air pressure hPa
Child input 5 - Rain accumulation mm
Child input 6 - Rain duration s
Child input 7 - Heating temperature °C
The WXT520 also offers other data. The default data above is created on Row 0. The following are the other data options with Measure Command C:
Row 1 - Wind Data
Require 6 child inputs:
Child input 0 - Wind direction minimum °
Child input 1 - Wind direction average °
Child input 2 - Wind direction average °
Child input 3 - Wind direction maximum °
Child input 4 - Wind speed minimum m/s
Child input 5 - Wind speed average m/s
Child input 6 - Wind speed maximum m/s
Row 2 - Pressure, Temperature and Humidity Data
Require 3 child inputs:
Child input 0 - Air temperature °C
Child input 1 - Relative humidity %RH
Child input 2 - Air pressure hPa
Row 3 - Precipitation Data
Require 8 child inputs:
Child input 0 - Rain accumulation mm
Child input 1 - Rain duration s
Child input 2 - Rain intensity mm/h
Child input 3 - Hail accumulation hits/cm2
Child input 4 - Hail duration s
Child input 5 - Hail intensity hits/cm2h
Child input 6 - Rain peak intensity mm/h
Child input 7 - Hail peak intensity hits/cm2h